Digital part production: Highly automated CAM
May 4, 2022

-

May 5, 2022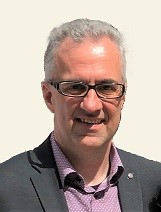 Parts and components manufacturers can efficiently and cost-effectively create today's increasingly complex machine parts thanks to Computer-Aided Manufacturing (CAM) software.
Some manufacturers, however, still fall behind because they're spending unnecessary hours manually programming pockets, holes, and other features on simple parts.
Smart software solutions can significantly reduce programming time by automating repetitive tasks.
Attend this live, interactive webinar and find out how to make better parts faster with a comprehensive solution for CAD, CAM, CMM, robotics, additive manufacturing, and more.
Highly automated CAM merges digital and physical processes
By leveraging highly automated CAM technology, machine builders can easily reuse proven data to automate programming and optimize machining processes to deliver consistent results.
Attend this webinar, and you'll learn how to:
Reduce programming time by up to 90% with feature-based programming
Speed up setup while defining optimized workpiece positions in the fixture
Achieve desired tolerances using Product Manufacturing Information (PMI)
Program collision-free and high-performance toolpaths using the "digital twin" of your setup
Automatically update programs and shop documentation when the parts or fixturing design changes
The solution discussed in this webinar accelerates production, reduces waste, improves part quality, and increases production efficiency gains.
Meet the speaker
SIEMENS DIGITAL INDUSTRIES SOFTWARE
Uwe Edlinger
Head of NX CAM Business Development
Uwe is the product portfolio manager of NX CAM, a product set that includes 2.5 axis and 5 axis milling, features-based machining, wire EDM and turning, and much more. As a part of his role, Uwe oversees all global digital manufacturing activities relating to NX CAM, including enablement. Uwe joined Siemens Digital Industry Software in 1997, as a part of the UGS acquisition. Prior, Uwe worked in manufacturing for Computervision and GE Calma. Uwe works from home in Alzenau, Germany, a small city just outside Frankfurt.
Share this post via: