CUG 2023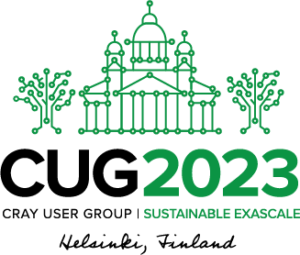 About CUG
Cray is now a Hewlett Packard Enterprise Company. As a result of the acquisition, CUG is happy to welcome HPE Apollo customers to join the organization and participate in the Cray User Group special interest groups and conference events.
Who We Are
The Cray User Group is an independent, international corporation of member organizations that in the past owned Cray Inc. computer systems. With the acquisition of Cray by HPE in 2019 the participating organizations was expanded to include owners of both select HPE and Cray systems.  Founded in 1978, CUG was established to facilitate collaboration and information exchange in the high-performance computing (HPC) community. We assist our members in achieving their business and research objectives by providing opportunities to share and discover ideas, solutions, and developments in the effective use of computational tools.
Meetings of the Minds
As an employee or user of a CUG site, you will be invited to attend exclusive conferences and workshops all over the world. These events feature insightful presentations by HPC experts, as well as valuable technical sessions, tutorials, and demonstrations. They also facilitate member discussions around current experiences, projected trends, and productive collaboration opportunities with sessions led by special interest group leaders and other members of the Cray User Group. Although CUG operates independently of Cray Inc. and HPE, you will benefit from Cray and HPE expertise at our conferences and workshops. Cray and HPE send technical, management, and executive representatives to these events to share information and learn of our members' needs.
Other Benefits
In addition to our annual conferences and topical workshops, as a CUG member you will have access to:
CUG publications, including our newsletter, conference proceedings, and the CUG Handbook
CUG Site List, which provides contact information of members who are willing to exchange ideas and experiences on a number of computing issues
e-mail reflectors, used for reporting technical problems, sharing solutions, and contributing relevant announcements or queries.
Join Us
If your organization has a Cray computer system, it is eligible to become a member of the Cray User Group. For an annual fee of $750, you and your colleagues can be an active part of our dynamic international community. Join us today and discover how collaboration among Cray users can lead to increased effectiveness, surprising solutions, and exciting innovations.
Code of Conduct
CUG is dedicated to providing a harassment-free conference experience for everyone, regardless of gender, sexual orientation, disability, physical appearance, body size, race, or religion. The Cray User Group will not tolerate harassment of participants in any form. All communication should be appropriate for a professional audience, including people of many different backgrounds. Participants violating these rules may be asked to leave the event, conference or organization without a refund, at the sole discretion of the CUG Board of Directors. If you wish to report a breach of the Code of Conduct, contact us. All reports will be treated confidentially.
Welcome
Dear Cray User Group colleagues,
CSC IT Center for Science Ltd (CSC Finland) would like to invite you to CUG 2023 in Helsinki, Finland, May 7 – 11, 2023. Our theme for this meeting is Sustainable Exascale. This is a double reference to environmental sustainability in hosting energy-hungry exascale systems, as well as to sustained application performance, that is harnessing the exascale systems for real-world workloads.
CSC Finland has hosted Cray systems since 1989. Our most recent installation, EU's flagship supercomputer LUMI, is an HPE Cray EX (Shasta) system with 375 Pflop/s Linpack performance. ('Lumi' means 'snow' in Finnish and Estonian languages.) What makes LUMI unique is its fully carbon-neutral operations: it is powered by 100% hydroelectric energy and its waste heat is being utilized in heating up 20% of the surrounding city (Kajaani, in Northern Finland). The total footprint was also reduced by a brownfield datacenter solution and minding supply chain sustainability in the acquisition of the system. We are eager to hear other initiatives in our community for improving energy efficiency and reducing the carbon footprint of HPC operations!
What comes to sustained application performance but related to the previous topic, LUMI will be the main computing platform in the first phases of European Commission's massive research program "Destination Earth", which aims at building a digital twin of Earth, to act as a tool for scenario work and political decision making: with an interplay of high-resolution global climate models, Earth system models and related impact models we will be able to determine which actions against climate change are most cost-efficient and having the greatest impact. In addition, LUMI will of course be supporting a variety of workloads of other scientific disciplines.
We hope to see in CUG2023 an inspiring overview of largest supercomputers in action supporting scientific discovery. We look forward to seeing you in Helsinki, the capital of the happiest country in the world. Helsinki is a European pioneer in sustainable urban development. Sustainable solutions are not only environmentally friendly and energy-efficient, but they are also made of citizen wellbeing, equality and functional everyday life.
See you next year!
Pekka Manninen
Director, LUMI Leadership Computing Facility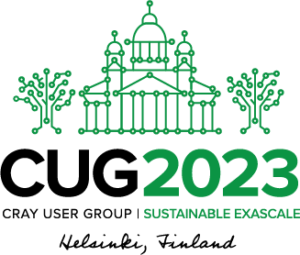 Share this post via: