Circuit Simulator 2X/3X Faster than FastSPICE on Full Chip Simulation
November 11, 2020 @ 1:00 AM

-

2:00 AM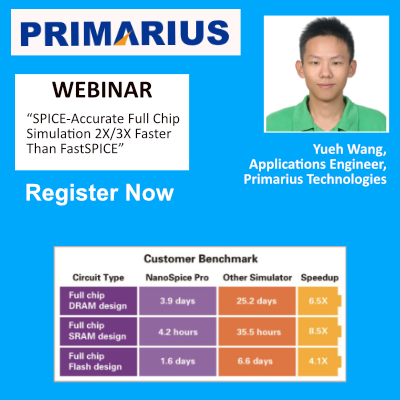 Typical applications for SPICE simulators include analog, small and middle size digital and memory blocks, whereas FastSPICE simulators targets larger blocks or full chip simulations including memory circuits, SoCs. SPICE is very accurate but cannot handle large designs and simulation time can be extensive. While FastSPICE can reduce simulation times dramatically, it cannot meet the increasing accuracy requirements expected of SPICE.
In this webinar we will discuss three new circuit simulators. The first is a pure parallel Spice simulator with bigger capability and faster speed than other Spice simulators. The second is Giga-Scale Spice that can deliver faster speed than FastSpice for applications that requires Spice level accuracy, for example, power analysis, leakage current simulation, accurate timing. The third simulator is a combination of Spice and FastSpice with Adaptive Dual-Simulation Engine (ADSE) that delivers faster speed than traditional FastSpice for timing and functional verification targeting for full-chip memory and SOC design. All three simulators have superior memory efficiency and good scalability with many cores. They are also foundry proven and are ready to run on most of the models on the market.
SPEAKER: Yueh Wang earned a Masters Degree in Electrical and Computer Engineering from the University of Michigan-Ann Arbor. After interning at Analog Devices he was a hardware developer at Oracle. Yueh Wang joined Primarius in 2017 serving as an application engineer.
Share this post via: