Autonomous Vehicles: We're Already There (Sort Of) Webinar
November 19, 2020 @ 8:00 AM

-

9:00 AM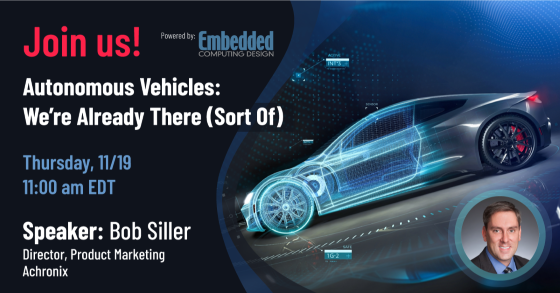 Learn about the hardware, software and IP technology needed for fully autonomous vehicles on November 19 at 11:00AM EST
Depending on your perspective, autonomous vehicles have been with us for quite some time, or they're not even close to being here. The former is true in some cases where trials are being run for both passenger vehicles and for trucks. The latter is more the case when you look at mainstream driving down our crowded city streets. This webinar will look at the components that are needed, both software and hardware, to close the gap between "almost here" and "they're everywhere."
Register today for this joint webinar to learn:
The various hardware, software and IP components required to bring fully autonomous vehicles to market
How eFPGA IP provides lower cost, power and increased bandwidth compared to standalone FPGA solutions in automotive applications
Example ADAS applications of eFPGA solutions in automotive ASICs
This webinar hosted by Embedded Computing Design will features speakers from Achronix, ARM, Lattice, Cadence and DFI and will provide complete perspecitve on what's required from a hardware, software and IP perspective to bring this technology into production.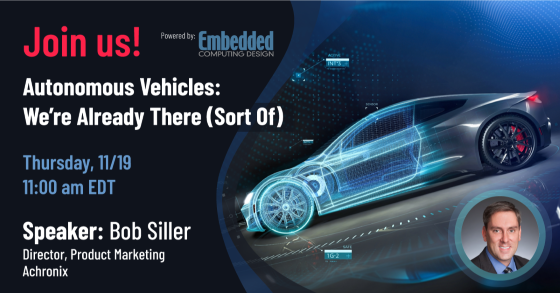 About the Presenter
Bob Siller – Director of Product Marketing at Achronix
Bob has worked in the semiconductor industry for over 20 years. At Achronix, Bob is responsible for driving the global product marketing initiatives for Achronix's FPGA, eFPGA IP and design software products. Prior to Achronix, Bob worked at Intel as Director of Marketing and Sales Business Systems and Altera where he was Sr. Strategic Marketing Manager responsible for automotive ADAS business development. Bob holds a MBA from Santa Clara University and a BSEE from the University of Illinois Urbana-Champaign.
Share this post via: