Advancing the Dry Etching Process – through Supply Chain Robustness and Material Innovation
August 31, 2022 @ 4:00 PM

-

5:00 PM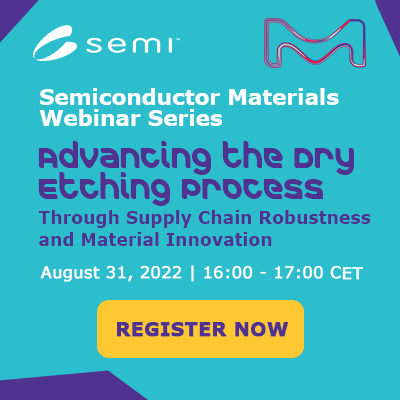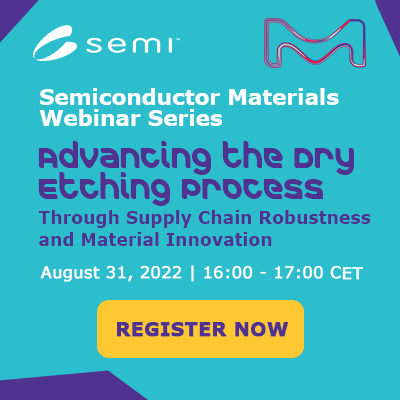 Date & time: August 31, 2022 | 16:00-17:00 CET
Speakers: Sung-Ho Kim, Director, Head of Global Marketing, Clean & Etch, Specialty Gas, *EMD Electronics
James Nehlsen, Head of R&D, Specialty Gases, *EMD Electronics

*The Electronics business of Merck KGaA, Darmstadt, Germany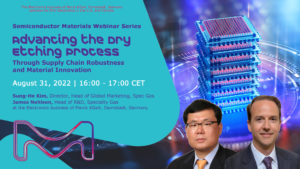 Through Supply Chain Robustness and Material Innovation
This is the fourth webinar of our series exploring trending topics on materials and semiconductor development.
Join us to discover how to advance your dry etching process by building a robust supply chain and driving material innovation.
During this interactive webinar, you will learn about innovative materials solutions to advance your dry etching process and meet challenging technical requirements, with the leading industry supplier that holds more than 50 years of history with a reliable supply and safety record.
Along with supply chain robustness in the existing etch gas product portfolio, new product development is another key focused area to meet dry etching process advancements as chips' structure is getting more complex and design rules continue to shrink.
Stay tuned and engage with our business and technology leaders to discover both sustainable and high-performance dry etch gas solutions exceeding industry expectations.
Why attend? 
Our semiconductor materials webinar series attracts professionals, business and technology leaders, researchers, academics, and industry analysts from across the electronics supply chain around the world.
In this webinar, you will gain practical insights on:
How the robustness of the dry etch gas supply chain helps mitigate chip shortage under logistics and supply crisis
Understand the high-level supply chain of dry etch gas and the new etch gas, including low-GWP gas, development cycle, and its challenges
Who should attend? 
Dry etch engineers
Material technology management team
Supply chain, procurement, process, and technology development teams from semiconductor companies
Register today to access exclusive content during an interactive session. 
You will be able to apply innovative techniques and best practices to solve your unique challenges.
A live Q&A will follow.
Attendees are invited to submit questions ahead of time at info_semi_webinar@emdgroup.com.
Share this post via: