ADVANCED CMOS TECHNOLOGY 2020 (THE 10/7/5 NM NODES)
February 5, 2020

-

February 7, 2020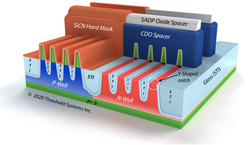 Course Description:
The relentless drive in the semiconductor industry for smaller, faster and cheaper integrated circuits has driven the industry to the 10 nm node and ushered in a new era of high-performance three-dimensional transistor structures. The speed, computational power, and enhanced functionality of ICs based on this advanced technology promise to transform both our work and leisure environments. However, the implementation of this technology has opened a Pandora's box of manufacturing issues as well as set the stage for a range of manufacturing challenges that require revolutionary new process methodologies as well as innovative, new equipment for the 10/7/5nm nodes and the upcoming 3nm node. This seminar addresses all of these manufacturing issues with technical depth and conceptual clarity, and presents leading-edge process solutions to the new and novel set of problems presented by 10nm and 7 nm FinFET technology and previews the upcoming manufacturing issues of the 5 nm Nanowire.
The central theme of this seminar is an in-depth presentation of the key 10/7/5 nm node technical issues for Logic and Memory, including detailed process flows for these technologies.
A key part of the course is a visual survey of leading-edge devices in Logic and Memory presented by the Fellow Emeritus of the world's leading reverse engineering firm, TechInsights. His lecture is a visual feast of TEMs and SEMs of all of the latest and greatest devices being manufactured and is one of the highlights of the course.
An update on the status of EUV lithography will be also be presented by a world-class lithographer who manages an EUV tool. His explanations of how this technology works, and the latest EUV breakthroughs, are enlightening as they are insightful.
Finally, a detailed technology roadmap for the future of Logic, SOI, Flash Memory and DRAM process integration, as well as 3D packaging and 3D Monolithic fabrication will also be discussed.
Each section of the course will present the relevant technical issues in a clear and comprehensible fashion as well as discuss the proposed range of solutions and equipment requirements necessary to resolve each issue.
The course notes are technically current, reproduced in high-resolution color and profusely illustrated with high-quality 3D graphics and TEMs of real-world devices.
In addition, dynamic 3D models of semiconductor micro-structures are presented on-screen to clarify the structural details of FinFETs 3D Flash and Nanowires. Click on the link below to preview a typical structure.
Share this post via: